Airstream Interstate Lounge at The RV Shop in Baton Rouge, LA
For Louisiana travelers in search of a versatile option for luxury travel with space and flexibility, the Interstate Lounge will have you feeling right at home. For our customers wanting tremendous functionality, plenty of room to socialize and sleeping accommodations they've only dreamed of, the Airstream Interstate Lounge has got everything you're looking for.
A View from Outside the Airstream Interstate Lounge
The Airstream Interstate Lounge is available in three exterior colors, arctic white, brilliant silver metallic, or jet black. Choose the color that best fits your own unique Louisiana style, and decide how you and your new Airstream Interstate Lounge from the RV Shop will stand apart from the crowd on your next road trip or adventure.
Tour the Inside of an Airstream Interstate Lounge
For the kind of comfort and sophistication you deserve when traveling on the open road, you won't find a touring coach that provides the kind of amenities that come standard on every Airstream Interstate. All Airstream Interstate Lounge models at The Rv Shop are luxuriously appointed with a variety of stunning colors, finishes and fabrics. Your options abound, so choose the seating, socializing and sleeping arrangements that best fit your own individual preference.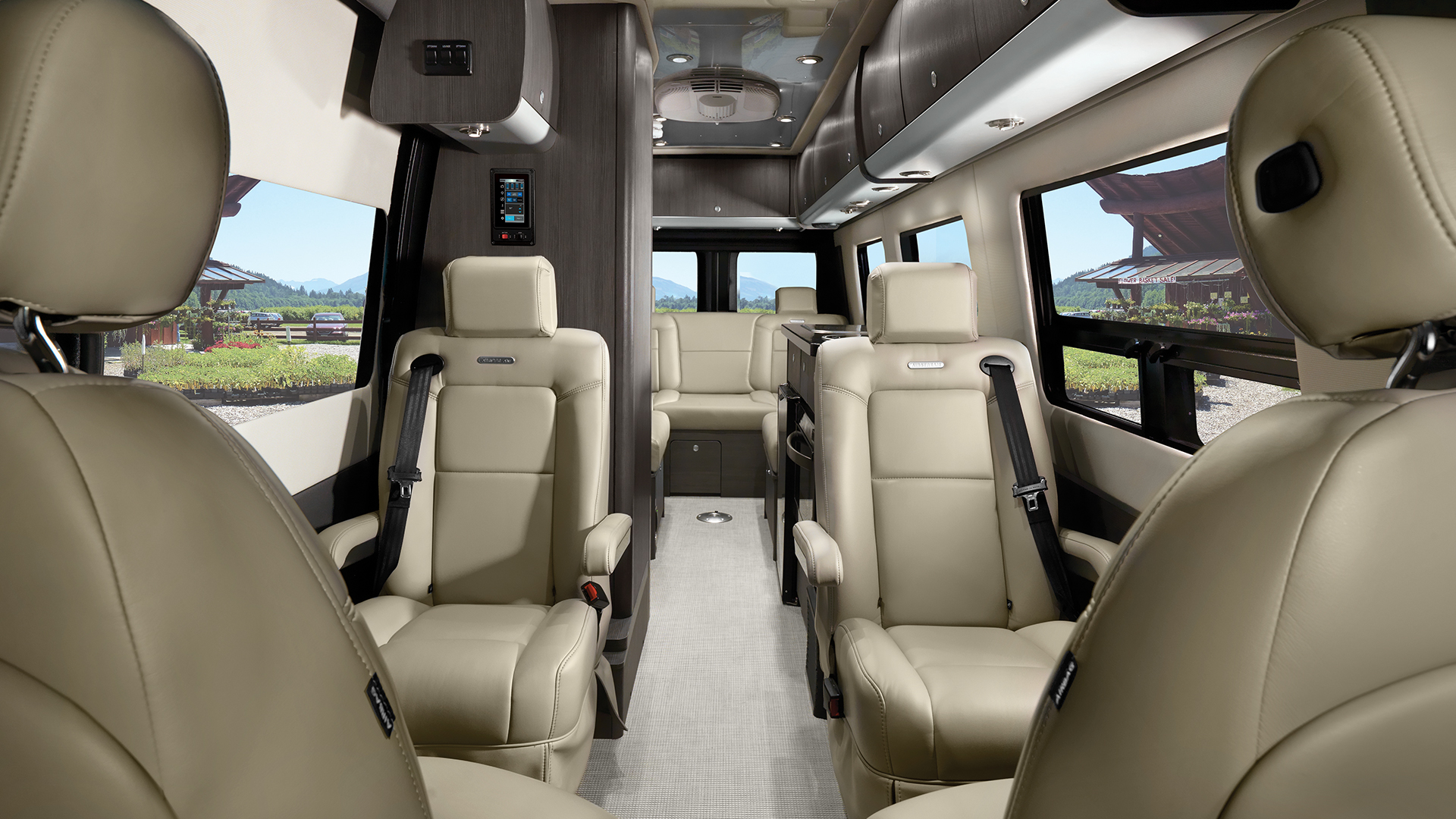 The Interstate Lounge Series was designed with a tremendous amount of flexibility, including great social spaces, storage solutions and sleeping accommodations. Your options are pretty much endless, and you can choose the layout best suited to meet all of your Louisiana traveling needs. With seating for up to nine and offering the perfect balance of luxury, comfort and efficiency, there is an Airstream Interstate Lounge floorplan and decor for any type of Louisiana adventure.
Drive Away in an Airstream Interstate Lounge from The RV Shop
The optional Four Wheel Drive, On Demand system of the Airstream Interstate Lounge models at The RV Shop provide the utmost traction, stability and control at the mere push of a button. The four-point drive system also combines two systems, Load-Adaptive Electronic Stability (ESP®) and Electronic Traction (4-ETS), to optimize power and grip when traveling in less than ideal Louisiana conditions. Choose between low and high settings depending on road conditions, and find sure footing over any type of terrain, such as snow, ice, unpaved roads and mud.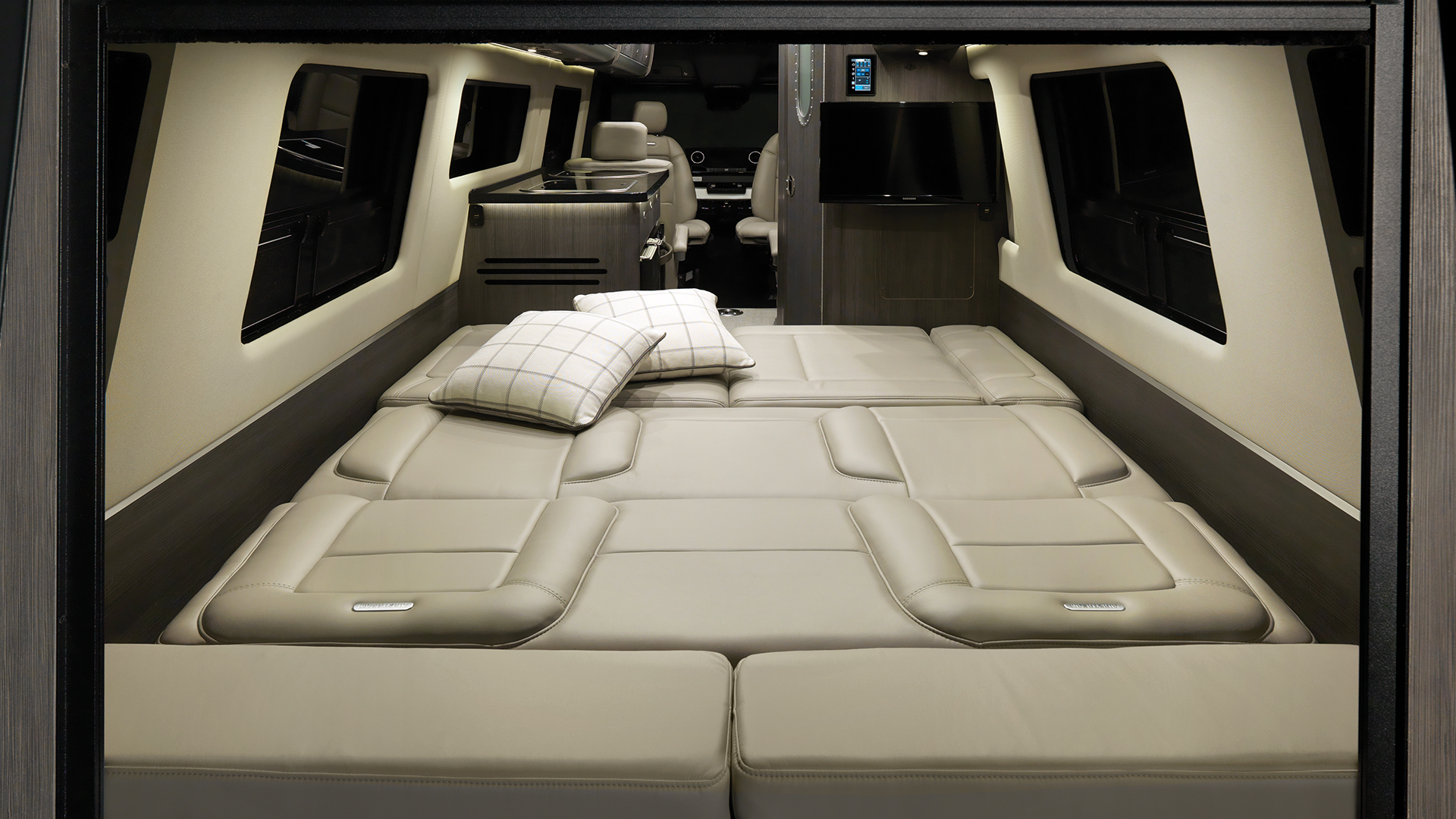 Authorized Airstream Interstate Lounge RV Dealer in LA
Contact The RV Shop, a family-owned, Airstream authorized dealer in Louisiana for more details on Interstate Lounge floor plans, specifications, color options and additional features. We are a dedicated and knowledgeable South Louisiana RV dealer that enjoys showing our customers the impressive selection of Airstream Interstate Lounge travel trailers we have available. We can provide you with the RV of your dreams, then it's up to you to provide all of the fun and adventure!
RV Shop Online serves customers from Louisiana, helping them find the ideal Airstream Interstate Lounge RV that can satisfy their every need. We are proud of the unmatched level of customer service that our dealership is known for providing, and we do our best to ensure that each customer that enters our Louisiana dealership leaves satisfied. When it's time to purchase your Airstream Interstate Lounge RV, come by The RV Shop and let our friendly sales personnel go over all of the purchasing options available to you.