Renegade Explorer Super C Diesel Motorhome at The RV Shop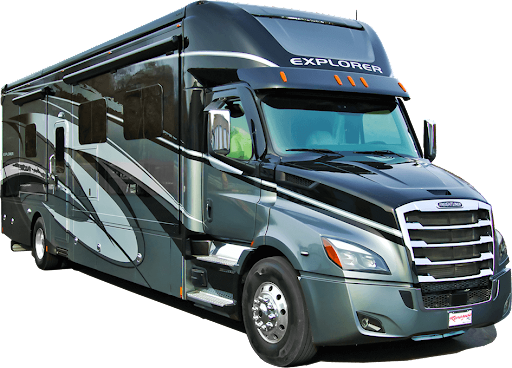 The Renegade Explorer Super C diesel motorhome brings the best of both worlds, providing a powerful performance with its 13-liter engine that delivers 525-HP and maximum comfort with its impressively homey interior. Step inside the Renegade Explorer and experience everything that The RV shop loves about this Class C motorhome!
Explore the Renegade Explorer's Exterior and Performance 


The exterior of the Renegade Explorer delivers functionality in style with its five sleek color options that have Diamond Shield anti-chip paint protection! The Aerodynamic fiberglass front and rear caps and transition ensure that every driver gets an optional performance out of their motorhome.
In addition, the 20,000 lb. hitch, 7-way tow connector, and equalizer fully automatic 4-point hydraulic leveling system keep every haul safe during the longest trips, no matter the terrain. Alongside its LED docking lights and aluminum compartment doors with remote-operated latches, these are just a few of the features on the outside of this motorhome's exterior.
See What's Inside the Interior of the Renegade Explorer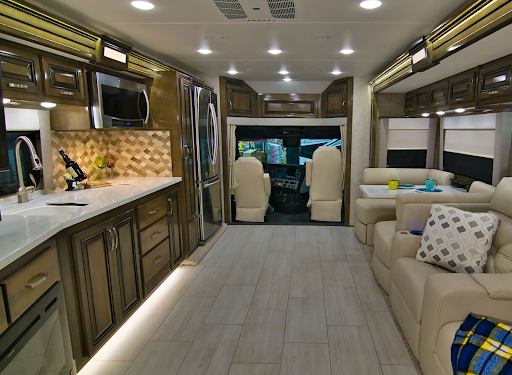 Whether you are visiting a camping hotspot like Grand Isle or venturing off-grid, the interior of the Renegade Explorer brings luxury living to every outdoor destination! This motorhome has every essential packed inside so you can rough it outdoors during the day and enjoy the comforts of a home at night. 
Have access to your go-to meals on the road with the Renegade Explorer's fully equipped kitchen with stainless steel appliances. Within the beautiful hardwood cabinets and stainless steel french door refrigerator,  there is enough room to store appliances and all your food necessities. 
After a long day outside, relax inside the spacious living area while lounging on Ultraleather furniture and unwind on the sofa that transforms into a full-size mattress perfect for those cozy nights! Then, take a break from disconnecting in nature and immerse yourself in your favorite movie on the 50" 4K Smart LED TV and soundbar home theater with Bluetooth and a wireless subwoofer. 
The Renegade Explorer is a true home away from home inside its bedroom space. It contains an iRelax Memory Foam mattress that provides the most comfortable sleep and a full-length wardrobe with dresser drawers to store all your must-have essentials. Plus, you can stay entertained even in your most private moments with the 32" 4K Smart LED TV w/Blu-ray/DVD player that comes in the bedroom. 
The Renegade Explorer's Highlight Features and Upgrades
The journey to your next getaway can be just as enjoyable as the destination! The cab has features like electronic cruise control and a premium touchscreen dash radio with Bluetooth so that you can have access to entertainment and convenience just like the other passengers on board! 
Arguably the most crucial thing to consider about a motorhome being on wheels is its vulnerability to common dangers while on the road. Luckily the Renegade Explorer has a Safety Assurance Package with all the necessities like Collision mitigation and lane departure warning, so you can have peace of mind while transporting your home from one place to the next. 
There is no limit to the luxury of this super C diesel motorhome as it comes with a plethora of premium upgrades, which allows you to mold it into a second home that best suits your lifestyle! Add on the storage ottoman for more space, the central vacuum system for a clean interior at all times, and a washer and dryer stack for convenient access to clean clothes.
See The Renegade Explorer in Baton Rouge 
Visit The RV Shop and see all the Renegade Explorer Super C Diesel Motorhome has to offer! When trying to find an RV from a reputable place, look no further than us, the best RV dealers in Louisiana that you can trust! 
Our team has extensive knowledge and experience with the Renegade Explorer and other new RVs and will gladly walk you through all floorplans, layouts, and other amenities available. We want to help you find the perfect RV that you will be happy to call a second home, so contact us to find a motorhome that meets your needs!