Explore the Renegade Veracruz in Baton Rouge, LA
The Renegade Veracruz combines a luxurious and spacious interior, functionality, and a stellar driving experience all into one package. First introduced in 2019, the Veracruz is one of the newest additions to Renegade's already well-established fleet of RVs. This Class C RV is available on a Ford F-550 Super-Duty chassis with your choice of either 2WD or 4WD. With its abundant storage space, residential-style features, and heavy-duty performance, Renegade Veracruz has premium amenities in every corner. With a compact 35'5" footprint, Renegade Veracruz is available in two spacious floorplans.
Outside the Renegade Veracruz
Starting with its exterior, the Renegade Veracruz is available in three exterior finishes: Pebble, Beachwood, and Cabernet. Veracruz also features an electric patio awning with integrated LED lighting. Keyless door entry is also another standard feature. For easy access into the cabin, Renegade Veracruz has a fully automatic four-point leveling system, which is entirely controlled through a Bluetooth app.

Discover the Renegade Veracruz Interior
Stepping inside of the Renegade Veracruz, you are immediately greeted with ultra-comfort and luxury. Solid maple hardwood cabinets, high strength vacuum laminated flooring, and decorative kitchen backsplash are just a taste of the quality materials found inside. The Veracruz has many appliances on board, ensuring your mobile home is fit for a comfortable stay. A recessed 2-burner electric cooktop, stainless steel 18-cubic feet refrigerator, and stainless steel convection microwave oven, accompanied by an ultra-soft touch dinette are all part of the Veracruz's well-equipped kitchenette. When you step into the living room, a 40" mounted LED TV with accompanying Samsung 2.1 Soundbar and wireless subwoofer systems, as well as a Samsung BluRay player, will greet you. Enjoy Veracruz's living room entertainment on the ultra-soft Slide-a-Bed sofa with a queen-size sleeper. Rest assured that you will be sleeping comfortably in the Renegade Veracruz. With its iRelax memory foam king mattress and 32" LED TV, patrons will be more than comfortable sleeping inside the Veracruz. Featured throughout the cabin are USB charging, LED ceiling, and decor lights, as well as polished surface kitchen, dinette, bath, and bedroom countertops. Step into the bathroom, and you will be pleasantly surprised by the space. The bathroom features a fiberglass one piece shower with a glass enclosure and a porcelain macerator toilet.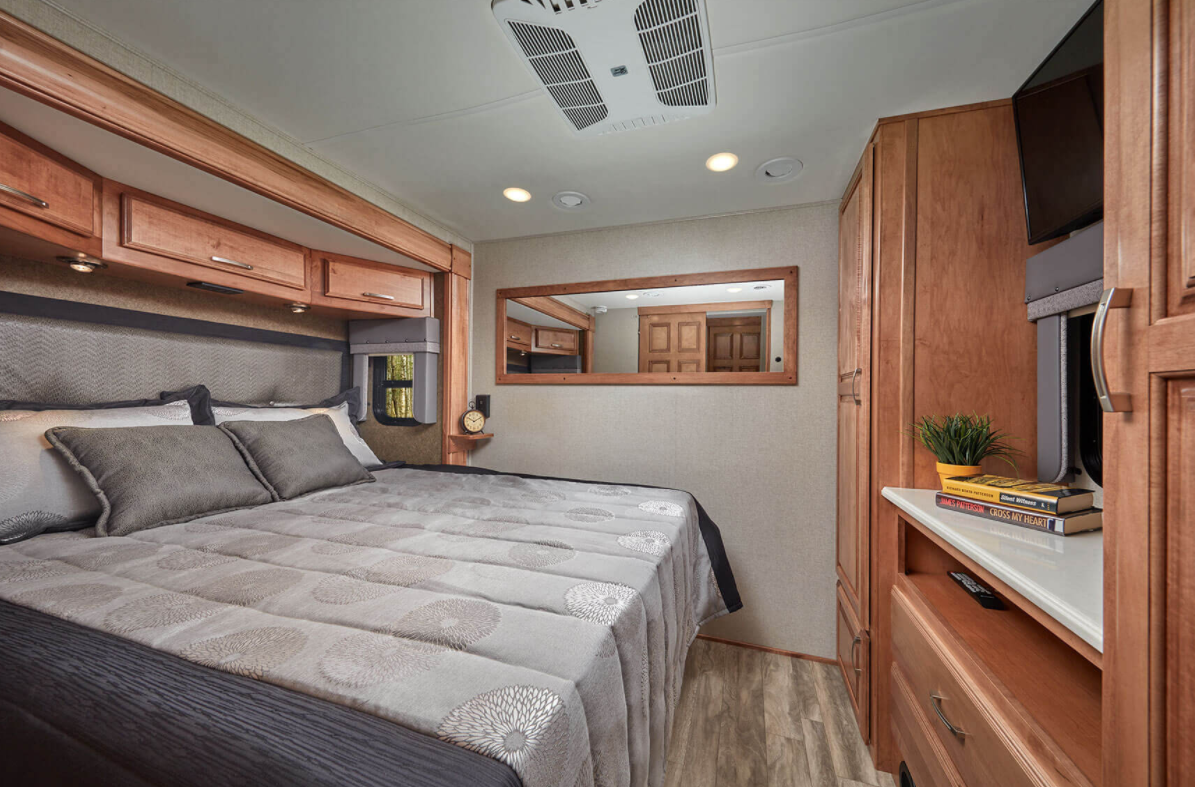 Drive off in a new Veracruz today
Getting behind the wheel of the Veracruz, you will find a premium touch-screen infotainment system with radio and navigation. Other chassis features include a six-speed automatic transmission, power windows, and power/heated side mirrors. Ford's F-550 Super-Duty chassis has more than enough power to handle the Renegade Veracruz. The Renegade Veracruz is an ultra-capable Class C RV that will make traveling a breeze. Passengers have all the amenities they need and more to ensure that they will remain comfortable and happy while traveling. The Renegade Veracruz packs all the power of Renegade's signature RV features into a smaller package. Are you interested in checking out a Veracruz or purchasing one today? Visit the RV Shop of Baton Rouge online or in person! We will help find the right RV for you.